Sep 19 2019
30th Anniversary Symbols
Traditional: Pearl
Modern: Diamond Jewelry
Flower: Lily
Gemstone: Pearl
Great Deals on Thirtieth Anniversary Gifts
Celebrating Your Thirtieth Anniversary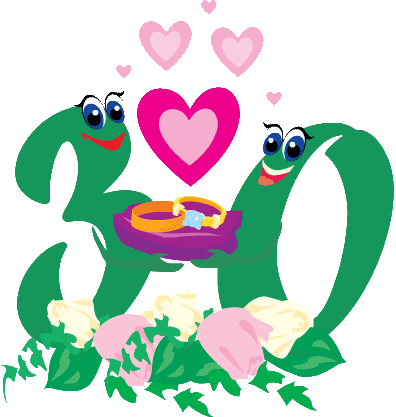 The thirtieth anniversary is an anniversary you will want to make memorable and special. It is not often celebrated with the great fan-fair of the twenty-fifth anniversary but hey it is significant and you want to make sure your partner knows how important they are to you.
Pearl Gift Suggestions
The pearl is both the traditional gift suggestion and the gemstone of the thirtieth anniversary so that seems to make some sort of pearl gift almost mandatory.
Pearls have been popular since Roman times and are the only gem made by a living creature. It is said Cleopatra dissolved a pearl in wine and drank it to prove her love of Marc Antony. While you probably don't want your special someone to do drink a pearl it is a romantic story to go with your thirtieth anniversary gift of pearls.
The Japanese discovered the process of producing cultured pearls in the early 1900's and still today dominate the cultured pearl market. Mikimoto one of the original producers cultured pearls has an online store with high quality cultured pearl jewelry for men and women at www.mikimotoamerica.com/catalog/catalog.html. Here you can find pearl cuff links and tuxedo studs as well as classic pearl necklace strands, bracelets, earrings and unique pearl pendants.
There are many types and colors of pearls depending on the bivalve or snail that produces the pearl. There are also freshwater and saltwater pearls depending on where the pearl was grown. Some of the most popular colors in addition to white pearls are the black pearl from the black-lip oyster, the blue pearl from the abalone and the very rare pink pearl from the conch.
The "Pearl Source" website offers a big selection of pearl rings, strands, earrings, pendants and bracelets in every imaginable color at www.thepearlsource.com/.  Any of these pieces would make a beautiful thirtieth anniversary gift.
Pearl jewelry not your partners style, maybe the mother of pearl boxes on "Egypt Gift Shop" website would be a better gift choice. The boxes come in various sizes and styles see the choices at the website www.egyptgiftshop.com/boxes.html.  Or check out the beautiful mother of pearl trays, bar tools and hurricane lamps on the Williams Sonoma website at www.wshome.com/srch/index.cfm?words=mother+of+pearl&submit.x=40&submit.y=12.
If your partner would appreciate a rosary take a look at the mother of pearl rosaries on the "Custom Rosaries" website at www.customrosaries.com/sea-shell-rosary/.
There is a handsome black mother of pearl 72×40 inch mirror made by James Duncan on the "Decorati" website at www.decorati.com/product/6530/the-black-mother-of-pearl-mirror which would make a magnificent accent piece in your home. Or, if you prefer check out the spectacular the full length mother of pearl mirror offered on the Neiman Marcus website at www.neimanmarcus.com/store/catalog/prod.jhtml?itemId=prod96240031&ecid=NMCIGoogleBaseFeed&ci_src=14110944&ci_sku=H4LJT.
If the significant other in your life is a drummer, consider a pearl drum or drum set as a thirtieth anniversary gift. "Pearl Drums" has a website at www.pearldrum.com/. Or staying with the musical theme, maybe your partner is a Pearl Jam fan there are lots of Pearl Jam CD choices that any Pearl jam fan would love. Check out the Pearl Jam CD's and vinyl records at www.musicstack.com/records-cds/pearl+jam.
Diamond Gift Suggestions
Who can resist a diamond gift? The fiery brilliance of the diamond is said to be symbolic of the enduring flame that fuels long term relationships and you have definitely achieved that. So go all out and get your partner a diamond to commemorate your thirtieth anniversary.
There are hundreds of diamond jewelry gifts for both men and women ranging from very expensive to affordable. If you have not gotten each other diamond eternity rings before now is the perfect opportunity. These rings which are inlaid with a circle of diamonds represent your unending love for each other. You can find many choices of eternity rings at your local jewelry store or you can shop on line for a variety of styles and metals. Try "Eternity Wedding Bands" a specialty site that deals exclusively with the jewel encrusted bands. You can see their selection of rings at www.eternityweddingbands.com/.
The website www.finejewelryvault.com/ also has a large selection of eternity rings and diamond earrings, bracelets and pendants any of which would make a special gift for your thirty year partner.
Lily Gift Suggestions
There are over 100 types of lilies some of which are grown and harvested for their edible bulbs. The large, summer blooming flowers are fragrant and come in whites, yellows, oranges, reds and purples. Some of the lily flowers have spots or colored streaks of contrasting colors.
Lilies make great cut flower arrangements so order a bouquet to be delivered to your partner on your anniversary. You can order an arrangement on line at www.ftd.com.
Lilies are also a popular silk flower. You can find a large selection of lily stalks on www.save-on-crafts.com/lilies.html and silk lily bouquets and center pieces on the "Silk Flower" website www.silkflowers.com/viewitem.asp?idProduct=937.
The website www.squidoo.com/calla-lily-decor has collected for your consideration a number of calla lily motif gifts and paintings including a brightly painted, hand carved Mexican themed calla lily benches, calla lily ceramic and blown glass vases and candle holders and reproductions of several oil paintings featuring calla lilies by one of Mexico's favorite painters Diego Rivera. There are also abstract oil paintings of calla lilies by Lily Pang Pingli and much more. If you cannot find a lily themed gift on this website you must not be looking there is something for everyone no matter their taste or style.
"Global Gallery" offers American artist Georgia O'Keeffe prints, which you can order framed or unframed, including several of calla lilies at www.globalgallery.com/search.php?af=georgia+o'keeffe&pg=2.
The Celebration
The thirtieth anniversary would be a good time to plan a trip together to somewhere you have always intended to go. It doesn't matter if the destination is Disney World or Paris the important aspect of the trip is that it is something the two of you will enjoy together creating another great memory to include in that fifty-year anniversary scrapbook or time capsule.
Leave a Reply