Sep 19 2019
60th Anniversary Symbols
Traditional: Diamond
Modern: Diamond
Gemstone: Diamond
Great Deals on Sixtieth Anniversary Gifts
Celebrating Your Sixtieth Anniversary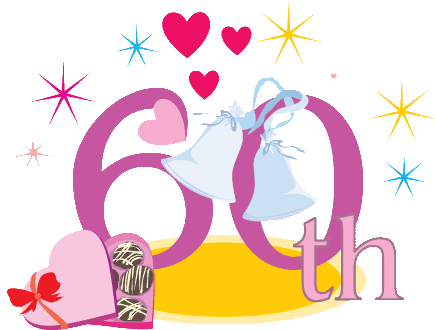 The sixtieth anniversary, also called the diamond anniversary, is usually celebrated with large and festive gatherings of family and friends. Gifts are really difficult at the sixtieth anniversary and beyond. The happy couple is likely just not interested in collecting more things so you are going to have to be creative and come up with meaningful gifts and mementos that are compatible with the downsizing goals most couples are striving to achieve.
Personalized Gift Suggestions
Think of personalized gifts like a scrapbook or video presentation. The scrapbook or video presentation could collect, organize, and preserve a historical review of the couple's life together including as many photos as you can gather either from the couple or from family and friends. You can create a photo sharing site to allow family and friends to contribute photos, video clips and mementos to the anniversary project from where ever they are in the world. One popular site is www.flickr.com and another is www.shutterfly.com which assists you in the creation of coffee table photo books, calendars with personal pictures and memories on all twelve pages, video presentations, personal web pages, stationeries, cards, coasters or decks of playing cards featuring pictures of the kids or memorable events of the past sixty years. The website "Smugmug" at www.smugmug.com/ is another popular site offering assistance with the creation of online video and photo sites and presentations as well as reproducing your photos on many gift items including coffee mugs and aprons.
Another personalized gift idea is to document either with a video camera or with lots of still pictures the sixtieth anniversary celebration. Include quotes or interviews with the guests and with the honorees. Make sure everyone has an opportunity to get a personal message into the final slide show or video. For those who wanted to attend the anniversary celebration but couldn't be there – give them the opportunity to send you video messages to include in the final anniversary video or slide show. Whether using stills or a video you will want to incorporate some of the couple's favorite music selections into the final product. You can make sure that all the guests as well as the couple have access to the video on an anniversary webpage. Make sure the anniversary couple have a DVD copy they can pop into the player whenever they want to relive the celebration. You could also include a coffee table book version with some of the very best pictures and quotes.
If the couple would appreciate a personal greeting from President Obama you can request the White House send a congratulatory message on the couple achieving this milestone anniversary. It is currently taking the Obama White House eight to twelve weeks to fill special greeting requests so be sure to get your request submitted a sufficient amount of time in advance to allow you to receive the greeting and include it in your anniversary scrapbook, or video presentation or have it framed for display at the celebration. You can make the request by postal mail sending your request to1600 Pennsylvania Avenue, Washington, DC 20502 or by faxing your request to (202) 456-2461. Be sure to include all the relevant information for a personalized message like how to address the couple (i.e. John and Mary or Mr. and Mrs. Peter Smith), the date of the wedding, the number of the anniversary and be sure to include your address to send the greeting back to you and a daytime phone number in case additional information or clarification is needed.
Another fun anniversary gift is to order personalized M&M's for the celebration by going to www.mymms.com with the couples names or other unique messages printed on these classic candies.
Whatever other gifts you are considering and no matter if the celebration you are planning is large or intimate don't forget flowers. You can select flower arrangements from your local florist or online at www.ftd.com. Roses are always an appropriate and beautiful anniversary arrangement choice but you should also consider an arrangement of the couple's favorite flowers or if you really want to strike a romantic note how about arrangements that incorporate the flowers the bride carried on her wedding day sixty years ago.
Diamond Gift Suggestions
Even if the anniversary couple are downsizing a special piece of diamond jewelry may still be appreciated. Think carefully about the couple and their personal preferences. Maybe matching diamond watches one for her and one for him would be a nice way to commemorate this significant event.
The "Watchery" website at www.thewatchery.com has a large selection of men's and women's diamond watches from which you should be able to find the perfect anniversary gift. There are also many fine diamond jewelry selections including rings, earrings, bracelets and necklaces if diamond jewelry is the gift you want to give. Try www.natalia-diamonds.com to find custom made unique and original diamond jewelry.
The Celebration
I believe that the most meaningful anniversary celebrations are those the couple helps to plan. I am not suggesting you can't include a surprise guest or gift I am however suggesting that the celebration should be all about the couple and they should be as comfortable as possible with the style and nature of the event. If the couple never wore satin dresses or suits and ties a formal dinner would not be the perfect event to celebrate their life together. On the other hand if the happy couple loves dressing up and going out – a picnic in the park is probably not a good choice for the anniversary celebration.
If the couple's life revolves around their family the celebration should be a family affair and include appropriate activities for the younger members of the family.
And if the couple is intensely private and happiest when enjoying each other why not all chip in and give them a cruise or a vacation villa at a private beach rather than make them suffer through a large affair with lots of people and chatter making them uncomfortable.
My advice let the couple help plan the sixtieth anniversary celebration. You do the work and take care of the details but let the honorees have a large if not final say in the manner in which their special day is celebrated.
Leave a Reply