Sep 19 2019
50th Anniversary Symbols
Traditional: Gold
Modern: Gold
Flower: Violet
Great Deals on Fiftieth Anniversary Gifts
Celebrating Your Fiftieth Anniversary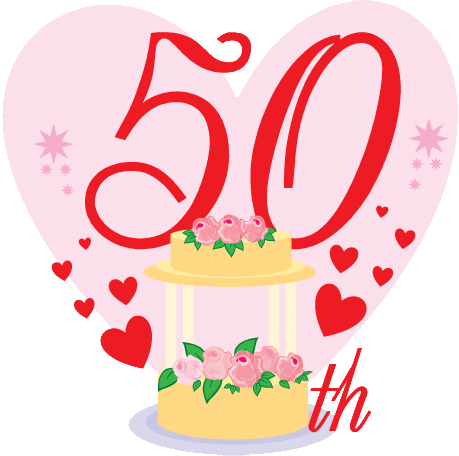 The fiftieth anniversary or golden anniversary is a milestone event and the celebration should be perfect. There is no formula for a perfect fiftieth anniversary celebration it all depends on the partner's preferences. I wouldn't try to do a surprise party after all who would believe you were not going to celebrate the fiftieth anniversary? If you are planning the celebration for your parents or friends involve the happy couple in planning the celebration event. Make sure it is an event that they will be comfortable with. This is all about celebrating the happy couple's lives together and should be a totally enjoyable, comfortable and relaxed day for them.
The fiftieth anniversary is a time to look back at the last fifty years and celebrate the good times. The best gifts are personal. After fifty years the couple is probably not adding "things" to their homes or closets rather they are probably downsizing and giving things away.
A scrapbook on paper or a personalized DVD filled with digital pictures of the life and times of the couple enhanced with the music of the times are the perfect gifts. You could organize family and friends through a photo sharing site so everyone can add their favorite photo or memory. Two highly rated photo sharing service sites are www.photobuscket.com and www.flickr.com.
Creating a video interview with the couple talking about their fifty years together sharing memories and thoughts with family and friends would be a wonderful gift for the couple and their family and friends. All you will need is your video camera and a little time to prepare a list of questions to prompt the couple's reminiscing on camera and an hour or so with the happy couple and you have created a keepsake worth much more than any gift you could buy. Or in a variation on a theme you could video others talking about the couple put together a collection of these video interviews and give it to the couple on their anniversary. This would be particularly meaningful if there are significant members of the family and close friends who will not be at the fiftieth anniversary celebration in person.
Gold Gift Suggestions
Both the traditional and modern gift categories are gold.  Gold is a precious metal that is the basis of most monetary systems and is a popular material for jewelry and other decorative works of art. Gold represents optimism and wealth and is often used to signify the best of the best for example the winner of Olympic events receives a Gold Medal. A musical artist or group who records a record that sells more than 500,000 copies is said to have gone "gold" and receives a symbolic gold record to memorialize the success of their record.
There are many gold gifts and gifts associated with gold that will make unique and special fiftieth anniversary gifts. The website "Roses for Life" at www.rosesforlife.com/ has roses preserved in 24K gold. You can give a single rose or create a beautiful gold arrangement for the anniversary and years to come in the future. If a totally gold rose is just not your thing look at the gold tipped roses or the glass roses on the same page. The gold tipped roses are preserved with their natural color and then the tips are dipped in 24k gold. The glass roses are handcrafted and then hand painted 22K highlights are brushed onto each rose.
Just in case roses, gold or otherwise, are not your partners thing the "Roses for Life" site also offer real sea shells, sand dollars and star fish preserved and dipped in 24 KT Gold. These would be a great fiftieth anniversary gift for the beach lover.
There is a gold handbag that any woman who carries everything in her purse would love.  Check out this great golden bag on www.luxist.com/tag/gifts+for+women/ and see if it would make your partner a perfect fiftieth anniversary gift.
Consider a gold coin from the US Mint as a fiftieth anniversary gift. Maybe a coin from the year you met or another coin that has a special significance or meaning to your partner.  You can see the options at the website www.usmint.gov/index.cfm?flash=yes.
If you want to give a gift of gold jewelry you have the choice or white or yellow gold. Make sure you know which your partner would like. Some folks have a definite preference for yellow gold and others only want white gold while others love both. If you are looking for a really unique gold jewelry gift check out the byzantine necklace on the "Blue Nile" website at www.bluenile.com/. You can also find awesome rings, earrings and bracelets on "Blue Nile" for both men and women.
Saman Jewelers has a collection of unique gold jewelry from India, Pakistan, the Middle East, Saudi Arabia, Malaysia, and Singapore. The Saman Jewelers website is www.22ktonline.com/shop/home.
Violet Gift Suggestions
There are over 400 types of violets. One of the best known is the sweet violet which grows wild in the woods and is one of the first harbingers of spring often blooming in late February or early March. These lovely plants have heart shaped leaves and gorgeous little purple or white flowers.
The African Violet is not a true violet. This popular houseplant has bigger, fuzzy leaves and larger flowers than its wild cousin. The African Violet flowers come in many colors including purple, blue, white, pink, yellow and some varieties have bi-colored blossoms.
If your partner has a green thumb an African Violet plant or plants is a wonderful fiftieth anniversary gift. You can get an African Violet plant at your local nursery or conservatory or online. One site you can check out is "Master Gardner" online at www.mgonline.com/articles/africanviolet.aspx. If your partner is an outdoor gardener and you have a shady spot you could consider the sweet violet plants as a gift for your yard or garden. You can order sweet violet plants on the "Edelweiss" website at www.edelweissperennials.com/largeview.asp?id=711&gclid=CMfsq7aT-p4CFaM45Qod5m49Jw.
The Celebration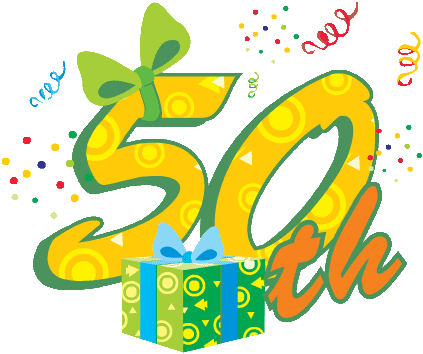 The nature of the celebration is really up to the personalities of the celebrants. It can be big and informal, small and intimate, or a big formal affair with invitations and planned events. Don't try to do the planning for the happy couple without their participation. The most important element of the celebration is that the couple is comfortable and enjoys the entire affair.
There will be lots of opportunities to surprise the couple with special gifts or unexpected guests but involve the couple in the plans for the type and nature of the celebration. The couple has earned the right to celebrate in the way and with the folks with whom they are comfortable celebrating. Respect their wishes.
One Response to "Fiftieth Anniversary Gifts"
#

Mary Lou

on 08 Aug 2012 at 2:27 am

Pictures of the ideas presented would be a big help.
Leave a Reply